If the persistent recession, high unemployment, a falling standard of living, rising dependency on government, higher taxes, and too much government debt are the dominating political issues in the 2012 Presidential race, Obama loses.
If social issues like gay marriage and free contraceptives are the dominating political issues in the 2012 Presidential race, Obama wins.
White House announces accommodation that Churches will hate
The move, based on state models, will almost certainly not satisfy bishops and other religious leaders since it will preserve the goal of women employees having their birth control fully covered by health insurance.
Sources say it will be respectful of religious beliefs but will not back off from that goal, which many religious leaders oppose since birth control is in violation of their religious beliefs.
Sharyl Atkisson skips award at CPAC
CBS News reporter Sharyl Attkisson has distinguished herself by reporting on the "Fast & Furious" gunwalking scandal in the Obama Justice Department. The conservative media watchdog group Accuracy in Media awarded her their Reid Irvine Award for investigative reporting at the Conservative Political Action Conference on Thursday -- only Attkisson failed to appear. Instead, Michael Calderone at The Huffington Post wrote CBS Washington bureau chief Christopher Isham accepted the award in Atkisson's honor and said that the network "is very proud of Sharyl's groundbreaking reporting."
More here
Senators ask CBO to rescore Obamacare
Today, 37 Senators led by freshman Sen. Ron Johnson, R-Wis., sent a letter to CBO director Doug Elmendorf asking for a re-estimate of the entire law in light of new information.
Several factors could make the health care law significantly more costly than advertised at the time of passage in March 2010. For instance, the law was crafted in a way to delay enactment of the major spending provisions until 2014, to make the legislation appear cheaper under the CBO's 10-year budget window (then 2010 to 2019). Now, the budget window has moved up to 2022, meaning it takes into account an extra three years of full enactment. More here
Obama foreclosures shakedown will spur spate of seizures
The $25 billion settlement with banks over foreclosure abuses may result in a wave of home seizures, inflicting short-term pain on delinquent U.S. borrowers while making a long-term housing recovery more likely.
Lenders slowed the pace of foreclosures as they negotiated withattorneys general in all 50 states for more than a year over allegations of faulty and fraudulent paperwork used to repossess homes. With yesterday's agreement, banks are likely to resume property seizures.
Michelle Obama, poor nutrition a national security issue
First lady Michelle Obama said Thursday that poor nutrition in the military was a "national security issue," and praised the armed forces for taking steps to bring healthier options onto bases.
"Our military leaders know that this is not just a diet issue; it's not just a health issue. This is truly a national security issue," Obama said. "According to a recent Army study, more than a quarter of our nation's 17- to 24-year-olds are too overweight to serve in our armed forces today. And even those who make the cut often struggle in basic training."
DHS spying on you on the web
The Electronic Privacy Information Center (EPIC) recently obtained close to 300 pages of documents, as a result of a Freedom of Information Act lawsuit, detailing the federal agency's "intelligence gathering" practices on the web. Among the documents were guidelines from DHS instructing outside contractors to monitor the web for media reports and comments that "reflect adversely" on the agency or the federal government.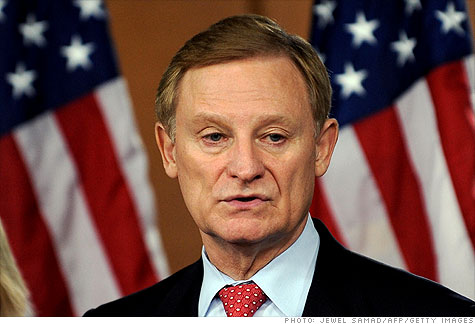 Rep Spencer Bachus under investigation for insider trading
The Office of Congressional Ethics is investigating the chairman of the House Financial Services Committee over possible violations of insider-trading laws, according to individuals familiar with the case.
Rep. Spencer Bachus (R-Ala.), who holds one of the most influential positions in the House, has been a frequent trader on Capitol Hill, buying stock options while overseeing the nation's banking and financial services industries. More here