Obamanomics: 5 dollar gas
Gasoline prices are headed for $5 a gallon in many locations in the United States this year, says John Hofmeister, founder of Citizens for Affordable Energy and the former CEO of Shell Oil's U.S. operations.

Global demand will rise and pressure supply, while U.S. politicians aren't doing anything to ease prices at home such as allowing for significantly more drilling.

Obamanomics: Social Security runs dry in 2022
Social Security's bank account will go bust in 2022 - the first time the program's combined trust funds will run a deficit, according to PresidentObama's budget released Monday.
One of Medicare's trust funds also will be in the red for much of the next decade, according to the numbers in the briefing book that the White House provided to Congressalong with the budget, which lays out Mr. Obama's tax and spending plans for fiscal year 2013 and beyond.
Obama may oust troops from military
The Pentagon plans to cut 67,100 soldiers from active and reserve Army units and the Army National Guard in the five years starting Oct. 1, as well as 15,200 from the active and reserve ranks of the Marine Corps as part of an effort to save $487 billion over a decade, according to the budget sent to Congress today. The Navy and Air Force would lose fewer people -- 8,600 and 1,700 respectively -- because of their role in a strategic shift toward the Asia-Pacific region and the
Middle East
.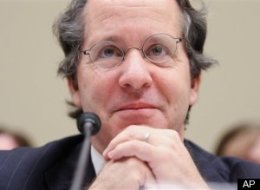 Obama advisor wants 'global minimum tax'
"He supports corporate tax reform that would reduce expenditures and loopholes, lower rates for people investing and creating jobs in the U.S., due so further for manufacturing, and that we need to, as we have the Buffett Rule and the individual tax reform, we need a global minimum tax so that people have the assurance that nobody is escaping doing their fair share as part of a race to the bottom or having our tax code actually subsidized and facilitate people moving their funds to tax havens," Sperling said.

24million voter registrations have errors
Some 24 million voter registrations in the
United States
contain significant errors, including about 1.8 million dead people still on the rolls and many more approved to vote in multiple states, according to a report released Tuesday.
Media Matters sought to hire private investigators to snoop into Fox News anchors lives
founder David Brock and president Eric Burns. In the first few lines, Frisch explained why Media Matters should launch a "Fox Fund" whose mission would be to attack the Fox News Channel."Simply put," Frisch wrote, "the progressive movement is in need of an enemy. George W. Bush is gone. We really don't have John McCain to kick around any more. Filling the lack of leadership on the right, Fox News has emerged as the central enemy and antagonist of the Obama administration, our Congressional majorities and the progressive movement as a whole."
"We must take Fox News head-on in a well funded, presidential-style campaign to discredit and embarrass the network, making it illegitimate in the eyes of news consumers."

What Frisch proceeded to suggest, however, went well beyond what legitimate presidential campaigns attempt. "We should hire private investigators to look into the personal lives of Fox News anchors, hosts, reporters, prominent contributors, senior network and corporate staff," he wrote.
Iranian terrorists strike Bangkok
An Iranian man has blown off his own legs and wounded at least four other people in grenade attacks in Bangkok, according to the police.

It remains unclear what the man's targets were, but the blasts come just a day after two bomb attacks aimed at Israeli diplomats in India and Georgia.

Israel on Monday blamed Iran for the bombings in India and Georgia, a claim denounced in Tehran as "sheer lies"